The Peterborough Phantoms are pleased to welcome young goalie, Tyler De La Bertouche, on a prospect contract!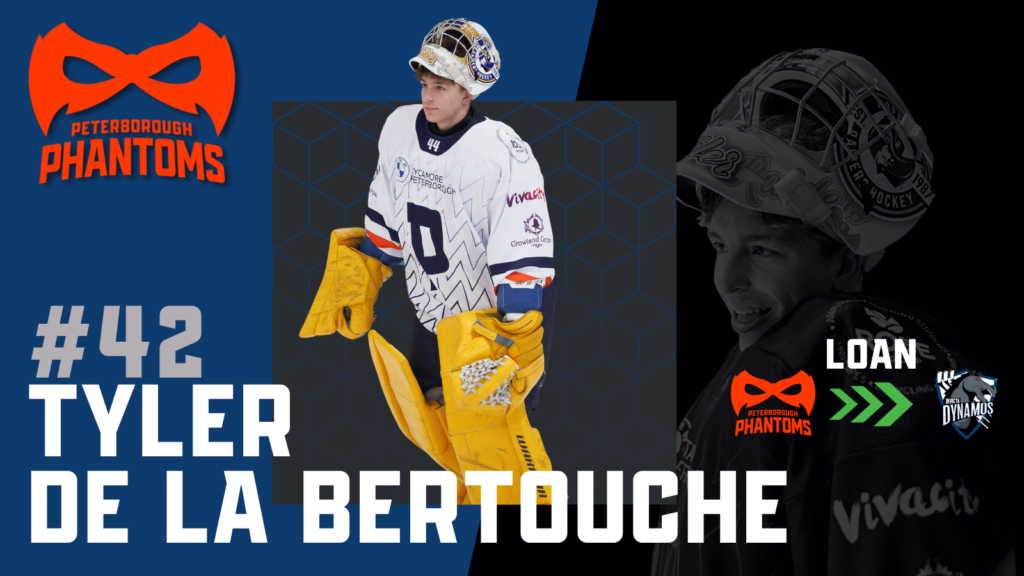 Photos by Darrill Stoddart
The 16 year old from London played a lot of his junior hockey in Romford and Haringey, but did ice 17 times for the Phantoms U15's in the 2018/19, posting an impressive save percentage of .938.
Since then, his junior development has continued with the Raiders, where last season he played U18 and featured a number of times on the senior Raider roster as injury cover.
He arrived in Peterborough late last season, following an injury to Ryan Bainborough. De La Bertouche came in to back up Jordan Marr through the Phantoms' playoff run and regularly practiced with Slava's side. Now, he joins the Phantoms on a prospect contract, which is set to be made a two-way deal with an NIHL1 side in the coming weeks.
Tyler was very excited to make the permanent switch to Peterborough: "I'm really looking forward to being part of the team this season. I had a great experience being involved in last seasons playoff run and everyone made me feel like part of the family. Peterborough is a great club with great fans and I am excited to return for a full season with the team!"
"Tyler is a good young goalie with a lot of potential. We were really grateful to him last season for stepping into the lineup when Ryan was out and we were impressed with what we saw from him during his time with us. We're pleased to welcome him on a permanent basis on a prospect contract, whilst hopefully getting him some games in the NIHL1 this season.
Tyler's own and loan light and dark jerseys are now available on the Phantoms Online Store. His equipment is also available to sponsor on our kit sponsorship grid. Head to the online store HERE to secure your De La Bertouche jersey and equipment!
Season tickets are still available for the upcoming 2022/23 season. Click HERE for more information on season tickets, or click below for your 2022/23 season ticket form!
2022/23 Phantoms Season Ticket FormDownload
For player sponsorship information, take a look at our 2022/23 sponsorship brochure by clicking the link below. For more information or to express your interest in sponsorship, please email sponsor@gophantoms.co.uk!
Phantoms Sponsorship Brochure 2022/23Download
Welcome to Phantoms, #42 Tyler De La Bertouche!