Ice hockey in Peterborough was born in late 1981, just days after the first ice rink built in the UK since 1960s was opened in the city.
A small group of like minded enthusiasts, borrowing equipment from wherever they could and supplementing training with sessions on the frozen washes of the fens, generated sufficient interest for the birth of Peterborough Pirates in the summer of 1982. The team was deemed strong enough to join Division One of the three division National League and two seasons later the side won promotion to the top flight of UK ice hockey.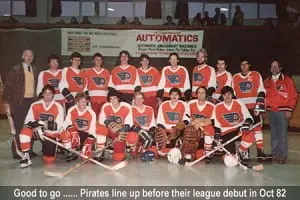 With crowds topping the 1,000 mark on a regular basis, Pirates went from strength to strength and in 1991 reached the Championship Play-Off Final at Wembley and appeared live on mainstream TV. Despite returning to Wembley the following season, Pirates struggled to thrive in the increasingly competitive 1990s as new arena based teams arrived on the scene in numbers.
In 2002, Peterborough Pirates hung up their skates for the last time but many of those who played in the final Pirates game were back on the ice a few months later in a new guise as the Peterborough Phantoms playing in the English Premier League. The change delivered immediate rewards as the Phantoms went on to secure a League and Cup double in their debut season and retained the Cup the following season.
As some of the "old guard" players called it a day, so a new crop of exciting, locally produced players came through to spearhead an exciting new era for Peterborough ice hockey and after winning the Knockout Cup in season 2007/2008, the team went on to achieve the unthinkable in 2008/2009, winning all three major honours and, in doing so, delivering the most successful season in the history of Peterborough ice hockey. The team most recently won the 2018 Autumn Cup, National Cup and Southern Play-Off Championship.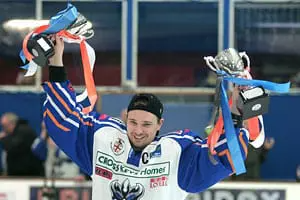 Based at the Planet Ice Arena in Bretton (PE3 8YN), Phantoms will be competing in the National Ice Hockey League (NIHL) this season. The majority of home fixtures are played on Sunday evenings, with a small number played on Saturdays and mid-week. The regular season starts in September and ends at the prestigious Play-Off Championship Finals in April.
During the season, Phantoms will be both hosting and visiting teams from Hull, Bracknell, Milton Keynes, Basingstoke, Leeds, Swindon, Telford, London and Sheffield.
The core of the Phantoms team is made up of locally trained players who have progressed through the excellent Peterborough Youth Development Policy and will be supported by a further four International players from North America and Europe. In recent seasons, a number of Peterborough Players have represented the Great Britain Junior and Senior sides at the IIHF World Championships and Olympic Qualification tournaments.
Peterborough Phantoms Awards
2002/03 – League Champions, League Cup Winners, Play-Off Runners-Up
2003/04 – League Runners-Up, League Cup Winners, Play-Off Semi-Finalists
2004/05 – Play-Off Runners-Up
2006/07 – Play-Off Semi-Finalists
2007/08 – Knockout Cup Winners
2008/09 – League Champions, League Cup Winners, Play-Off Champions
2014/15 – Play-Off Champions
2015/16 – Cup Runners Up
2017/18 – League Runners Up
2018/19 – Autumn Cup Champions, National Cup Champions, South Play-Off Champions, National Play-Off Runners Up
2023/23 - NIHL National Cup Champions