The Peterborough Phantoms are pleased to confirm the return of popular young forward, Jasper Foster!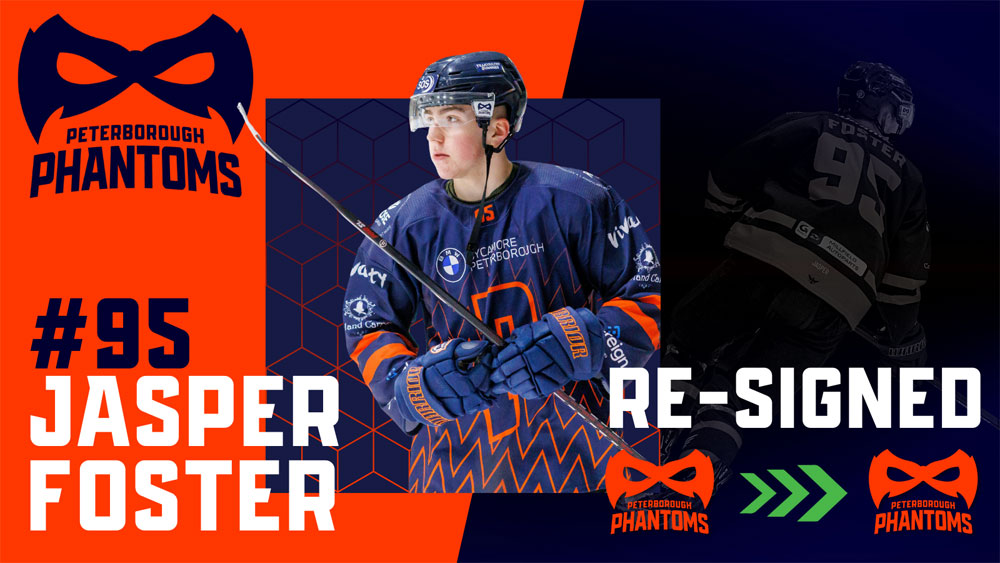 Photos by Darrill Stoddart
The 19 year old forward had an impressive debut season in Peterborough, notching 15 points in 47 games last term. The former Coventry Blaze Junior stepped up to the NIHL National last summer after his first experience of senior hockey with the Swindon Wildcats NIHL2, the previous year.
Jasper's all action style of play made him an instant hit with the Phantoms fans, whilst he also impressed with his skills both on and off the puck. His debut season in Peterborough saw him pick up both the Phanforce Development Player of the Year and the Most Improved Player of the Year Awards at the end of the 2021/22 season.
Slava said: "Jasper impressed everyone with his first season in the league and he stepped up to the challenge really well. He's only young still, but he has good size, he's strong on the puck and he has lots of potential to continue improving so we're excited to have him back to continue his development here!"
And Jasper said the following on his return to the Phantoms: "After such a enjoyable experience with the team last season when Slava asked for me to sign back it was a instant yes for me. I couldn't have asked for a better group around me to help me with my development and i'm hoping to bring more to the table this year and show the league and fans what the phantoms are capable of"
Season tickets are still available for the upcoming 2022/23 season. Click HERE for more information on season tickets, or click below for your 2022/23 season ticket form!
Download 2022/23 Phantoms Season Ticket Form
For player sponsorship information, take a look at our 2022/23 sponsorship brochure by clicking the link below. For more information or to express your interest in sponsorship, please email sponsor@gophantoms.co.uk!
Download Phantoms Sponsorship Brochure 2022/23
Welcome back, #95 Jasper Foster!
Photo Credit: Darrill Stoddart