The Peterborough Phantoms are thrilled to confirm the return of forward Glenn Billing!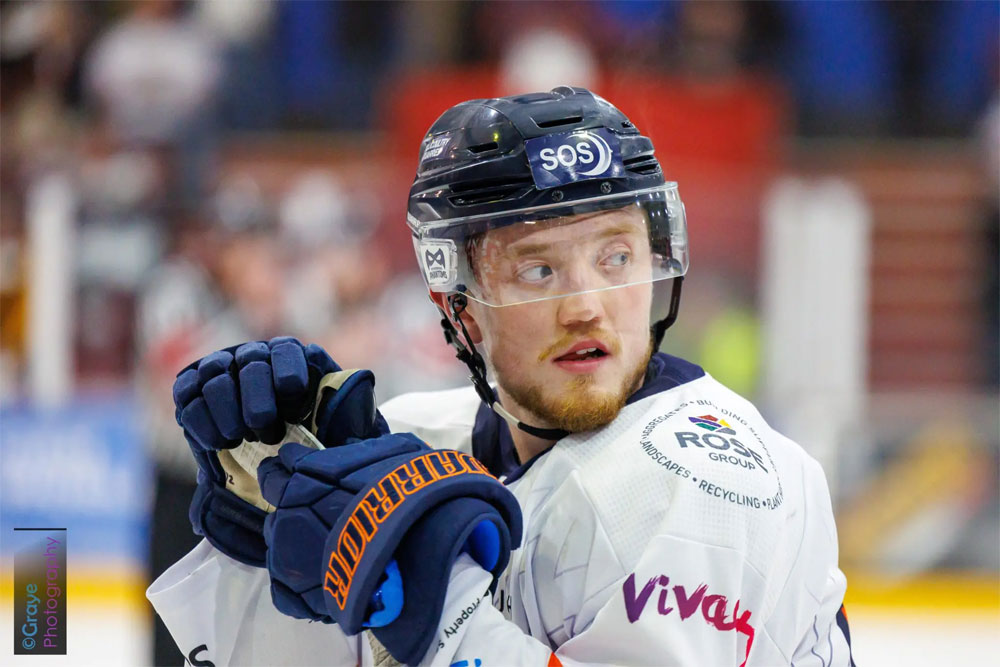 Photo Credit: Darrill Stoddart
The 25 year old Romford native is about to enter his fifth season in Peterborough, having firmly installed himself as a huge fan favourite over the last four seasons.
Glenny started his hockey journey in Romford, before moving onto Swindon and Okanagan, picking up a number of Great Britain U18 and U20 caps along the way. He then made a move to Milton Keynes, where he spent two full seasons, before landing in Peterborough ahead of the 2017/18 season.
Coming off the back of his best point scoring season with 23 goals and 40 assists for 63 points in 44 games, Billing was the joint Coaches Player of the Year award winner, alongside Callum Buglass.
On his return, Glenny said: "I'm really happy to back in Peterborough for another year! When Slavs gave me the opportunity to come back it was an easy decision for me! The group of guys we have made it a no brainer! I'm sure Slavs will recruit well in the summer to build on the core we have already to compile a silverware contending team! I love the club, it's a real family and I want to thank Slava and the directors for the continued belief in me and for giving me this opportunity. I definitely feel like we have some unfinished business from last year and I'm looking forward to a big summer and getting going again in September! See you then, Phantoms fans!"
And Slava Koulikov said the following: "Glenny is the kind of player you wish you could have several of in your team. He's progressed and matured so much since he joined us five years ago and I'm really pleased he's agreed to stay with us. He contributes offensively, but he's also a very smart player and is responsible with and without the puck in all three zones. For me, he's one of the best centremen in the league and I'm delighted to welcome him back!"
Season tickets for the 2022/23 season are on sale now! For more information and to purchase your season ticket, click HERE!
Details regarding own and loan sponsorship will be announced in the coming weeks, so keep an eye on our social media channels for more information.
If you'd like to sponsor Glenn Billing or the Peterborough Phantoms for the coming season(s), click the link below to take a look at our 2022/23 sponsorship brochure and email sponsor@gophantoms.co.uk for an informal chat.
Download Phantoms Sponsorship 2022-23
Welcome back, #72 Glenn Billing!