The Peterborough Phantoms are pleased to announce the return of Jarvis Hunt.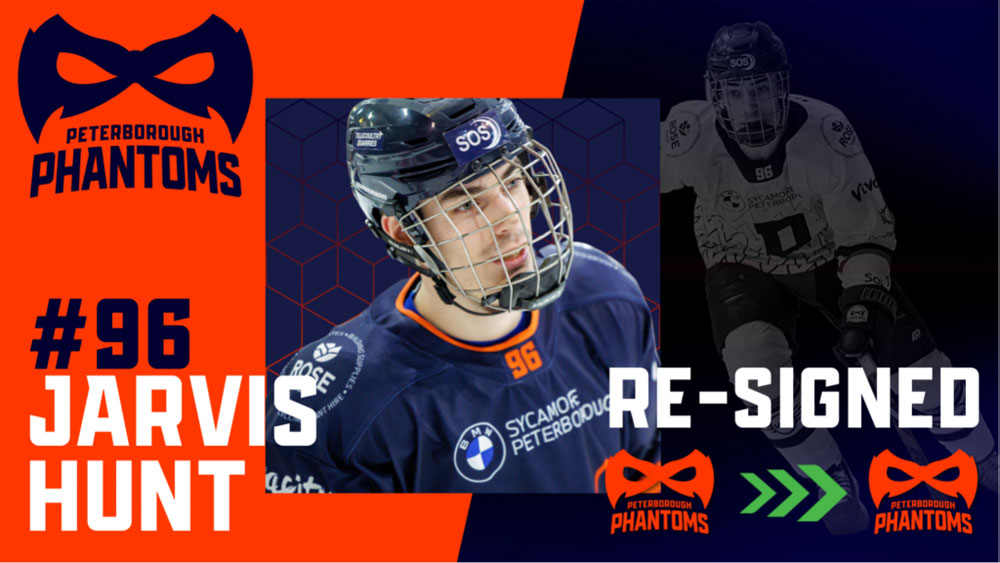 The 20 year old began his hockey career by splitting his time between Slough and Peterborough, before becoming a more prominent part of the Phantoms Academy.
In 2016/17, he scored a huge 141 points in 31 games, split between Phantoms' U15's and U18's. After an impressive year, he made his first steps into senior hockey in 2017/18, icing a handful of games for the Phantoms and Phantoms NIHL2.
2018/19 was his first year as a more regular part of the Phantoms team and has remained part of it since. Last season he posted his career best points tally at senior level to date – 15 points in 46 games.
Jarvis said the following on his return: "I'm excited to have re-signed for this year. I've loved the club since joining as a junior, we have a great group with our coach, players and staff. It was a no brainer when Slava called and I can't wait to get going again!"
"Jarvis is an effective player in this league, he's still only young but he's a pretty big guy and he uses it to his advantage in the way he plays the game. He's willing to go to the corners and do the jobs that most hockey players hate and we're happy to have him back with our group. We're hoping to see him continue his development with us this year!" said Phantoms Head Coach, Slava Koulikov.
Jarvis' own and loan light and dark jerseys are now available on the Phantoms Online Store. His equipment is also available to sponsor on our kit sponsorship grid. Head to the online store HERE to secure your Hunt jersey and equipment!
Season tickets are still available for the upcoming 2022/23 season. Click HERE for more information on season tickets, or click below for your 2022/23 season ticket form!
Download 2022/23 Phantoms Season Ticket Form
For player sponsorship information, take a look at our 2022/23 sponsorship brochure by clicking the link below. For more information or to express your interest in sponsorship, please email sponsor@gophantoms.co.uk!
Download Phantoms Sponsorship Brochure 2022/23
Welcome back, #96 Jarvis Hunt!