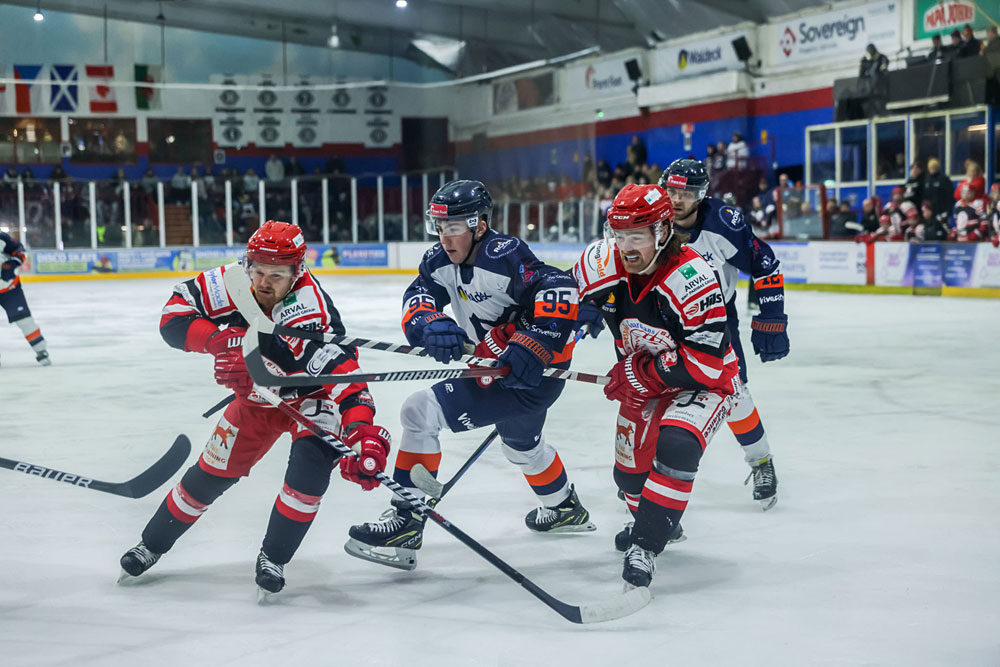 The Waldeck Peterborough Phantoms were beaten in overtime by the Swindon Wildcats on Sunday night.
The game was just over a minute old when the puck found twine for the first time in the game. Austin Mitchell-King finding space in the right circle to rip an effort past Renny Marr.
Nathan Pollard then went closer to making it two, cutting in from the right and seeing his effort well saved.
But the Cats hit back with 8:05 played, as captain Sam Bullas found the net from in close at the second time of asking, after a good initial block by Billy Thorpe.
Swindon got themselves in front early in the second, with Russell Cowley and Tomasz Malasinski linking up to assist Bullas, who scored from in close once again.
And they thought they had a third shorthanded early in the third, but it was washed out by Will Hewitt.
Jordan Marr was then called into action on the same Phantoms PP, making a double save to deny the visitors a short hander.
And after the poor powerplay, Phantoms did manage to create themselves a chance and it was one which found the net. Tom Norton levelling the scores with just over ten minutes to play.
Colby Tower had the chance to put Swindon back in front with six and a half minutes to play, but his shot, all alone from out in front, went over the bar.
Aaron Nell scored the overtime winner in a period of OT which the visitors dominated, to claim the extra point.
Phantoms goals:
1:08 (PP 1-0 SW): #24 Austin-Mitchell-King / #91 Lukas Sladkovsky (EHG)
49:11 (PP 2-2 SW): #2 Tom Norton / #95 Jasper Foster / #45 Callum Buglass (EHG)
Wildcats goals:
8:05 (PP 1-1 SW): #13 Sam Bullas / #71 Eddie Bebris / #27 Russell Cowley (EHG)
26:50 (PP 1-2 SW): #13 Sam Bullas / #27 Russell Cowley / #89 Tomasz Malasinski (EHG)
61:23 (PP 2-3 SW): #19 Aaron Nell / #89 Tomasz Malasinski (EHG)
Phantoms man of the match: #33 Jordan Marr
Wildcats man of the match: #30 Renny Marr