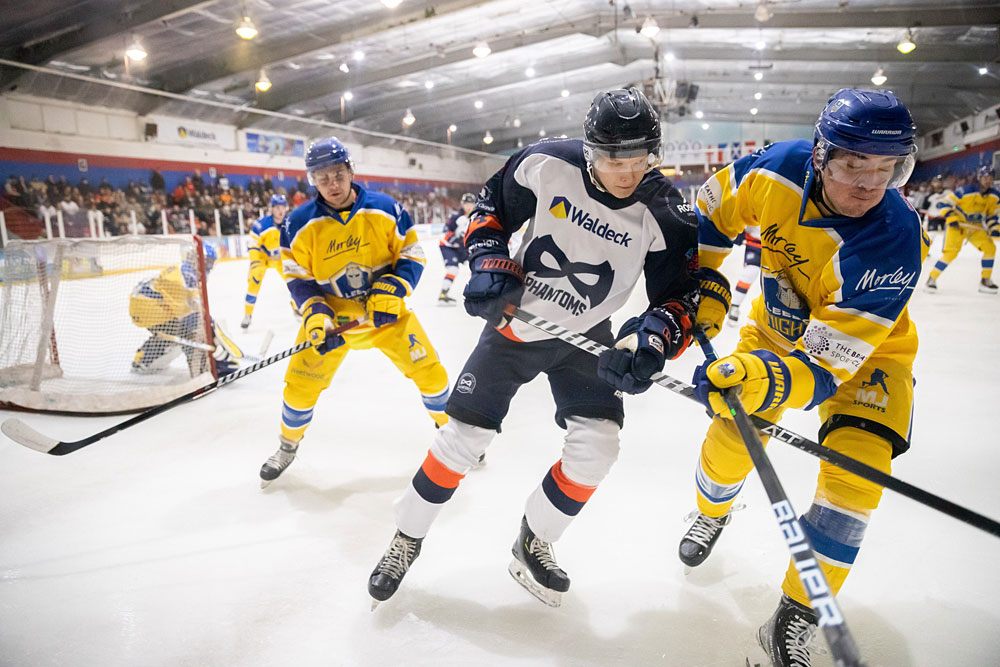 The Waldeck Peterborough Phantoms fell to defeat against the Leeds Knights in an all action affair at Planet Ice Peterborough.
Ralfs Circenis had the first good chance, seeing his breakaway shot saved by Sam Gospel. That was quickly followed by a blast from Luc Johnson, which saw Gospel flash the glove to make the stop.

The Phantoms were punished for their missed chances, as Cole Shudra sprung Zach Brooks on the breakaway, and Brooks finished well past Jordan Marr.
Phantoms didn't let that get them down and they went close again when Duncan Speirs found Ales Padelek 2-on-1, but Padelek's shot was saved.
The levelling goal did come, though, as Speirs lifted the puck into the roof of the net from close range.
The Phantoms hit the front with 6:42 played in the second period, as Tom Norton pounced on a rebound to notch a powerplay goal for Slava's side. Just give minutes later, Brooks found space at the back post in the last couple of seconds of the penalty kill, to score a shorthanded equalising goal.
Grant Cooper put the Knights ahead with a wrist shot beyond Marr, before Lukas Sladkovsky saw a breakaway effort saved well by man of the match Gospel.
Glenn Billing levelled the scores, though, ripping a great shot into the top corner on a goal which saw Jordan Marr pick up an assist.
And the Phantoms swung the game back in their direction, as Corey McEwen found the net from in close to give Phantoms a 4-3 lead.
But unfortunately, that was as good as it got. Cooper made it 4-4, before completing his hat-trick on 51:08 to put the Knights 5-4 ahead.
And when Tom Barry sat an interference penalty, Cooper had his fourth, ripping home from the right circle.
The scoring was completed by Brooks, who also completed a hat-trick, with an empty net goal to put the result beyond doubt.
FINAL SCORE: Peterborough Phantoms 4-7 Leeds Knights

Phantoms goals:
16:00 (PP 1-1 LK): #38 Duncan Speirs / #72 Glenn Billing (EHG)
26:42 (PP 2-1 LK): #2 Tom Norton / #93 Ales Padelek / #72 Glenn Billing (PPG)
43:57 (PP 3-3 LK): #72 Glenn Billing / #93 Ales Padelek / #33 Jordan Marr (EHG)
44:38 (PP 4-3 LK): #71 Corey McEwen / #29 Will Weldon / #45 Callum Buglass (EHG)

Knights goals:
11:05 (PP 0-1 LK): #25 Zach Brooks / #27 Cole Shudra (EHG)
31:19 (PP 2-2 LK): #25 Zach Brooks / #9 Grant Cooper / #3 Bailey Perre (SHG)
41:42 (PP 2-3 LK): #9 Grant Cooper / #25 Zach Brooks / #27 Cole Shudra (EHG)
46:55 (PP 4-4 LK): #9 Grant Cooper / #27 Cole Shudra / #25 Zach Brooks (EHG)
51:08 (PP 4-5 LK): #9 Grant Cooper (Hat-Trick) / #25 Zach Brooks / #27 Cole Shudra (EHG)
52:43 (PP 4-6 LK): #9 Grant Cooper / #44 Jordan Griffin / #27 Cole Shudra (PPG)
58:04 (PP 4-7 LK): #25 Zach Brooks (Hat-Trick) (unassisted) (EHG)

Phantoms man of the match: #72 Glenn Billing
Knights man of the match: #31 Sam Gospel