The Peterborough Phantoms are happy to confirm the re-signing of forward, Corey McEwen!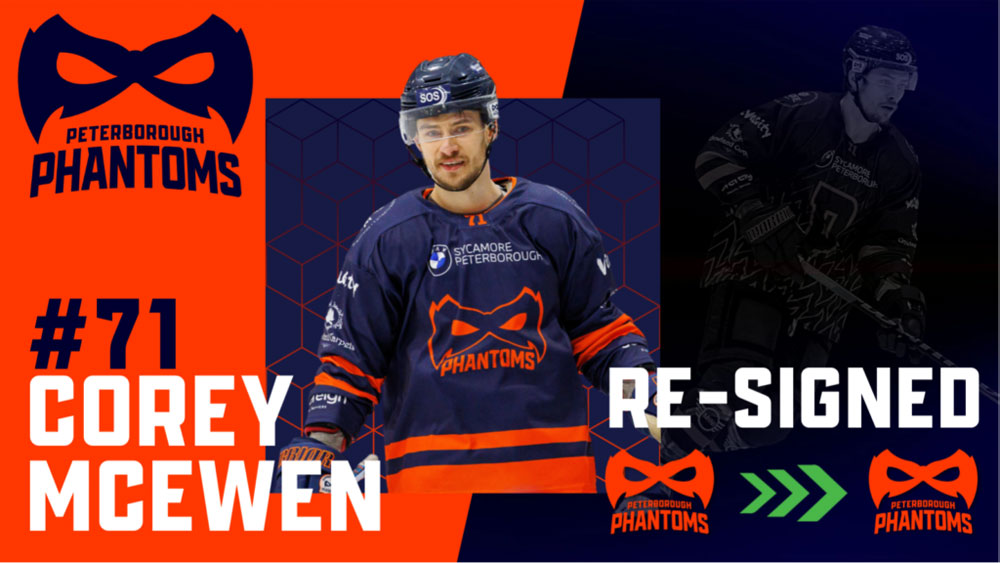 The 29 year old born in Wales, spent time in the Phantoms junior system between 2005-2007. He then headed to Canada, home of his father, Phantoms legend Doug McEwen, where he continued his development with the Sudbury Sharks, Copper Cliff Reds, Manitoulin Islanders, St. Benedict Secondary School, Blind River Beavers and Laurentian University.
In 2015, he signed with the Swindon Wildcats, scoring 17 points in 52 debut season games, before moving to Telford the following year. 2016/17 was his breakout year in England, as he scored 23 goals and 24 points for 47 points in 54 games for the Tigers.
He linked up with the Phantoms ahead of the 2018/19 season and has been with the club ever since, aside from an off-season spell in New Zealand with the Botany Swarm. He averaged over a point a game in his first two seasons with the club, picking up a player of the year award along the way and will be looking to rediscover that form this term after an injury hampered season last year.
McEwen said the following on his return: "I'm very happy to be back with the Phantoms for the upcoming season. We have a great group of guys and we will be competing for everything this year. I can't wait to get started!"
"Corey was unlucky last season with injuries, but we all know an injury free Corey is one of the most productive players in this league. He's always a threat offensively and he's improved his defensive game since he joined us in 2018. I'm really happy to have Corey back and I'm looking forward to continuing to work with him into the new season!" said Phantoms Head Coach, Slava Koulikov.
Corey's own and loan light and dark jerseys are now available on the Phantoms Online Store. His equipment is also available to sponsor on our kit sponsorship grid. Head to the online store HERE to secure your McEwen jersey and equipment!
Season tickets are still available for the upcoming 2022/23 season. Click HERE for more information on season tickets, or click below for your 2022/23 season ticket form!
Download 2022/23 Phantoms Season Ticket Form
For player sponsorship information, take a look at our 2022/23 sponsorship brochure by clicking the link below. For more information or to express your interest in sponsorship, please email sponsor@gophantoms.co.uk!
Download Phantoms Sponsorship Brochure 2022/23
Welcome back,#71 Corey McEwen!