The Peterborough Phantoms are pleased to welcome back another fan favourite for the new season – forward, Nathan Pollard!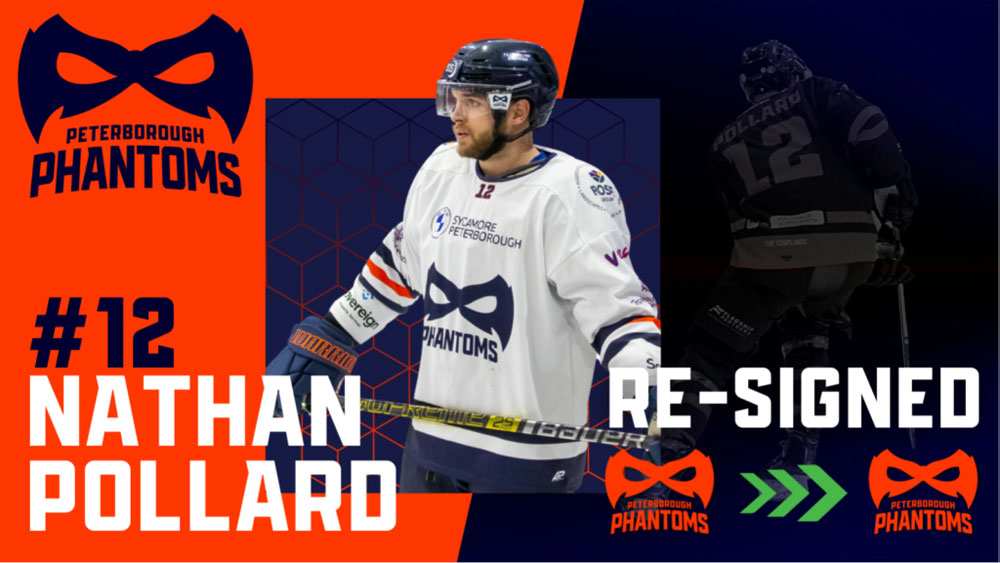 Photos by Darrill Stoddart
Polly has only played just over 25 games outside of Peterborough hockey in his entire career. He played his junior hockey with the Phantoms, before stepping up to the senior side in 2010/11.
Since then, the 29 year old forward has split his time between the senior Phantoms and Phantoms NIHL2 (then Islanders), aside from a 19 game stay with the London Raiders in 2013/14.
His other spell away from Peterborough was during the COVID-19 shutdown, as he played a hand full of games for the Haringey Huskies, where he scored eight goals and nine assists for 17 points in eight games.
The speedy forward has now played well over 300 times for the Phantoms, scoring 34 goals and 51 assists for 85 points – whilst adding a hat full more points to his tallies during his time with the NIHL2 set up. Now in his eleventh season with the Phantoms, he's looking forward to getting back to it and hoping to have another good point scoring season.
Nathan said the following on his return: "It's an absolute no brainer to play another year with the Phantoms. As a local lad there's no better feeling than pulling on the jersey of the team you grew up wanting to play for! We have such a great group and have very high expectations this season and will be competing for all silverware. Last year was a disappointing end for us so we will look to go one better this season. Can't wait to get back to it in front of the best fans in the league!"
"Polly is a great guy and a really good, positive hockey player. His speed is such an asset, when he gets up to full speed he's hard to catch, and he's not afraid to go into the corners and battle hard for this team every night. It's brilliant to have a core of guys who are local and who supported this club before they played for it, because it means so much to them. I'm really happy to welcome Polly back for another year!" said Phantoms Head Coach, Slava Koulikov.
Polly's own and loan light and dark jerseys are now available on the Phantoms Online Store. His equipment is also available to sponsor on our kit sponsorship grid. Head to the online store HERE to secure your Pollard jersey and equipment!
Season tickets are still available for the upcoming 2022/23 season. Click HERE for more information on season tickets, or click below for your 2022/23 season ticket form!
Download 2022/23 Phantoms Season Ticket Form
For player sponsorship information, take a look at our 2022/23 sponsorship brochure by clicking the link below. For more information or to express your interest in sponsorship, please email sponsor@gophantoms.co.uk!
Download Phantoms Sponsorship Brochure 2022/23
Welcome back,#12 Nathan Pollard!
Photo Credit: Darrill Stoddart