The Peterborough Phantoms are pleased to announce the return of Tom Norton, for a ninth season with the club!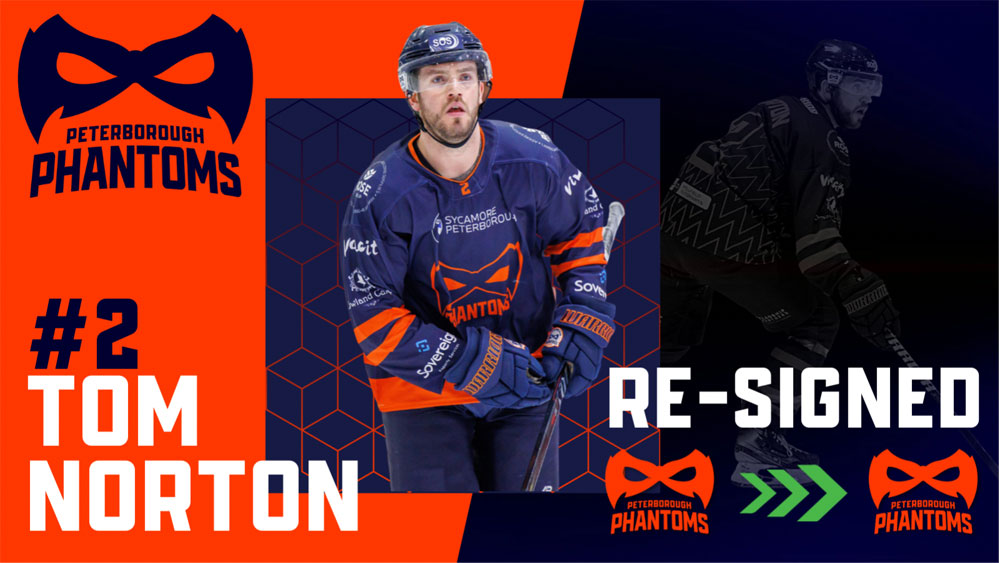 Photos by Darrill Stoddart
The 32 year old defenceman is product of his hometown junior system in Nottingham, where he iced all the way through the age groups, then into senior hockey with the Nottingham Lions and the Elite League Nottingham Panthers.
The former Great Britain U20 international made his first venture into second division hockey (then EPL) with the Milton Keynes Lightning, gaining invaluable ice time whilst on a two-way with the Panthers.
The following year, he arrived in Peterborough for the first time, ahead of the 2012/13 season, again on a two-way with his beloved Panthers. He scored 24 points in 52 games in his first season in Peterborough, earning a full time spot on the Panthers' team for the following year.
But he returned to Peterborough for 2014/15 and has remained a regular fixture in the Phantoms side ever since. He's worn the 'A' of an alternate captain and gone on to become an assistant coach, working with the defencemen on Slava Koulikov's roster.
In addition to his role as a player, he'll also return in his role as Assistant Coach.
Slava was extremely pleased to seal Norton's return: "Nortz is a model professional and someone our younger players look up to as they try and make their own names in the game. He's been fantastic for us over the last eight years and I'm really happy he'll be back again for a ninth. His assistance on the coaching side is a huge help to myself and I'm pleased he'll also be coming back to that role when we start again in the new season!"
And Nortz couldn't hide his excitement at his return: "As I have said many times before, it's a no brainier for me to sign back in Peterborough. Not sure where the time has gone, as this will be my 9th season with the club. But I am very excited for the new season with the team that is being assembled, and the style of play we are going to bring. It definitely feels like something big is being built, especially with how we performed in the second half of last season. I look forward to seeing everyone again – the best fans in the league, packing out the rink!"
Season tickets are still available for the upcoming 2022/23 season. Click HERE for more information on season tickets, or click below for your 2022/23 season ticket form!
Download 2022/23 Phantoms Season Ticket Form
For player sponsorship information, take a look at our 2022/23 sponsorship brochure by clicking the link below. For more information or to express your interest in sponsorship, please email sponsor@gophantoms.co.uk!
Download Phantoms Sponsorship Brochure 2022/23
Welcome back,#2 Tom Norton!
Photo Credit: Darrill Stoddart