The Peterborough Phantoms are delighted to announce the re-signing of experienced Czech forward, Ales Padelek!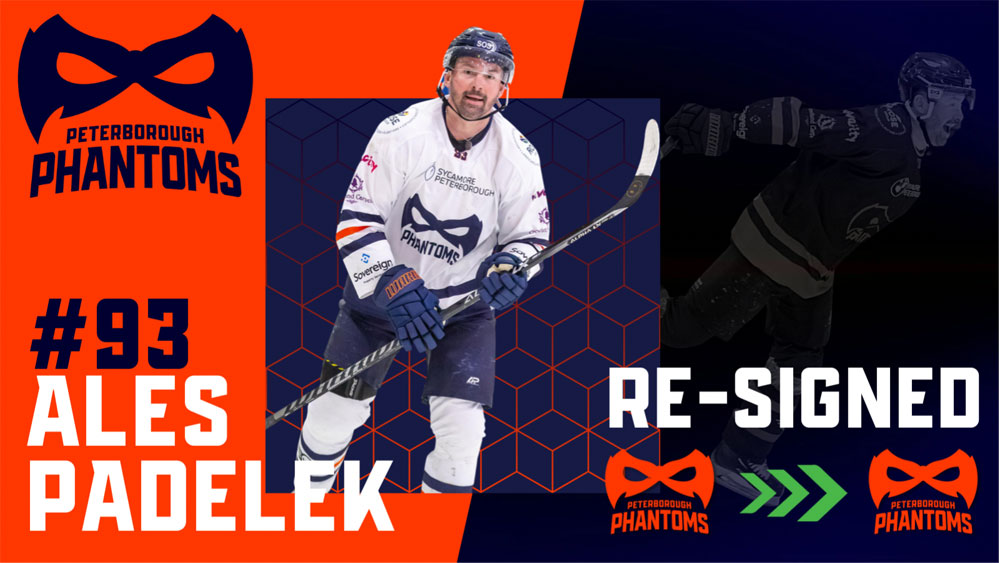 Padi spent a lot of his career playing in his native Czechia, splitting his time between the first and second divisions. He spent 12 years in the Czech top flight, amassing just shy of 150 points in almost 400 games. He also represented his National Team in 2005/06, in an era where the likes of Patrik Elias, Martin Erat and Jaromir Jagr, greats of the NHL, were also representing their country.
In 2013/14 and with a wealth of experience comfortably under his belt, Padelek arrived to play in England for the first time, lacing up for the Slough Jets – then player coached by a certain Slava Koulikov. He smashed in 32 goals and added 16 assists that season for Slough, before moving back home for the following year.
But ahead of the 2015/16 season, Padi found himself jetting over to English shores once again on the call from Slava, but this time to appear for the Phantoms for the first time. He was an instant hit in Bretton, notching 63 points in 53 debut regular season games.
Seven years on, he's now third in the Phantoms' all time point scoring charts, with 195 + 206 for 401 points in 298 games. He finds himself sixteen points behind Maris Ziedins' total of 417 points, and with some way to go to beat James Ferrara's 531. Ferrara, however, did play over 300 more times than Padelek has to date.
Slava said: "Every year Padi comes back and gives his all for this team and he shows no signs of slowing down. He's a guy we know we can trust in all situations on the ice and our younger players take a lot of advice and tips from him. There aren't many players in our league with his experience of playing at such high levels and we're lucky and glad to have him back for another year!"
And Padi had a joyous, yet interesting take on his re-signing with the club: "I am really pleased to be back for another year with Phantoms. Although I'm still trying to work out why all people here are drinking tea with milk…"
Season tickets are still available for the upcoming 2022/23 season. Click HERE for more information on season tickets, or click below for your 2022/23 season ticket form!
Download 2022/23 Phantoms Season Ticket Form
For player sponsorship information, take a look at our 2022/23 sponsorship brochure by clicking the link below. For more information or to express your interest in sponsorship, please email sponsor@gophantoms.co.uk!
Download Phantoms Sponsorship Brochure 2022/23
Welcome back, #93 Ales Padelek!