The Peterborough Phantoms are pleased to welcome Archie Salisbury and Leo Markey to the team on prospect contracts!
Archie Salisbury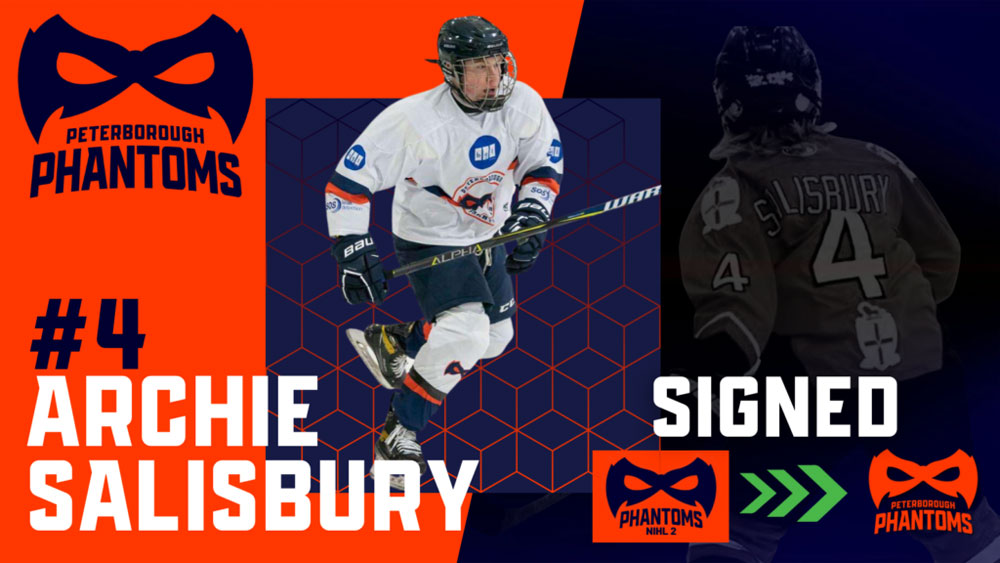 Archie is a local defenceman, who has progressed through the Peterborough Phantoms Academy. He's worked his way through the age groups and captained our U16's team last term, adding four goals and five assists for nine points in 12 games from the blue line. He also iced for the Phantoms U18's, adding 1+4 for 5 points in 11 games with the older age group. Archie also represented and captained England as a junior international and well as being selected as Assistant Captain to the Great Britain U16 team in 2022.
Due to turn 16 in the coming weeks, Archie's progression has been clear to see and he'll now link up with the Phantoms, whilst icing for an NIHL1 side on a two-way contract with the club.
"I'm really looking forward to playing with the guys on the team and being coached by Slava… I can't wait for the season to start!" Archie said, upon signing his first senior Phantoms contract.
Phantoms' Director Jon Kynaston, said the following on Archie's progression: "Archie is a traditional defenceman who plays with a real physical edge but added to this he has good all round skills, I think over the next few years Archie can become a firm favourite with the way he plays the game. Having worked with Archie since he started at U10 I am excited to see how he matures into the senior game, he is a real talent"
Leo Markey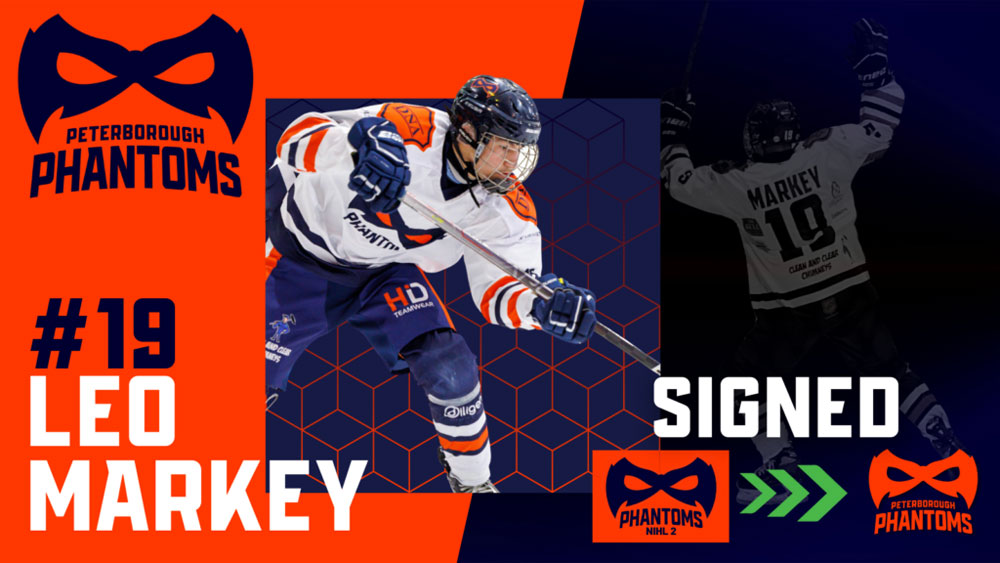 Leo is a name which Phantoms fans may remember from last season, with the 18 year old forward icing six times for Slava's side, scoring one goal.
Markey's junior hockey was split between Peterborough and Streatham, but he showed a keen eye for goal throughout the age groups and wore an alternate captain 'A' for the Peterborough Phantoms U18 side last season.
He also iced for the Phantoms NIHL2 side last season, scoring ten goals and seven assists for 17 points in 18 regular season games.
And this coming season, his time will be split between the Phantoms and an NIHL1 side. Salisbury and Markey's two-way destination will be announced in due course.
Leo said the following on his prospect contract: ""I'm really looking forward to spending more time with the Phantoms this year. I got a few opportunities last year which really helped me to grow as a player and adjust to the quicker and stronger style of hockey in the National League. I'm still young, so this gives me the perfect opportunity to play for a good team, surrounded by a team of great players who I can learn from and look up to, whilst being close to home to help me grow and develop as a player. I can't wait to get back to training, and start working hard ready for this season"
And, Kynaston, a key member of the Phantoms Academy, was also pleased to see Markey progressing from the junior set up into the senior side: "Leo brings that youthful energy and enthusiasm in the way he plays, good skating ability and a directness make Leo a threat. A player again I have seem develop over many years Leo has a good foundation and a great opportunity to refine his game and develop into a senior player."
Season tickets are still available for the upcoming 2022/23 season. Click HERE for more information on season tickets, or click below for your 2022/23 season ticket form!
Download 2022/23 Phantoms Season Ticket Form
For player sponsorship information, take a look at our 2022/23 sponsorship brochure by clicking the link below. For more information or to express your interest in sponsorship, please email sponsor@gophantoms.co.uk!
Download Phantoms Sponsorship Brochure 2022/23
Welcome to the senior Phantoms, #4 Archie Salisbury and #19 Leo Markey!