The Peterborough Phantoms are thrilled to confirm the arrival of Austin Mitchell-King from the Telford Tigers!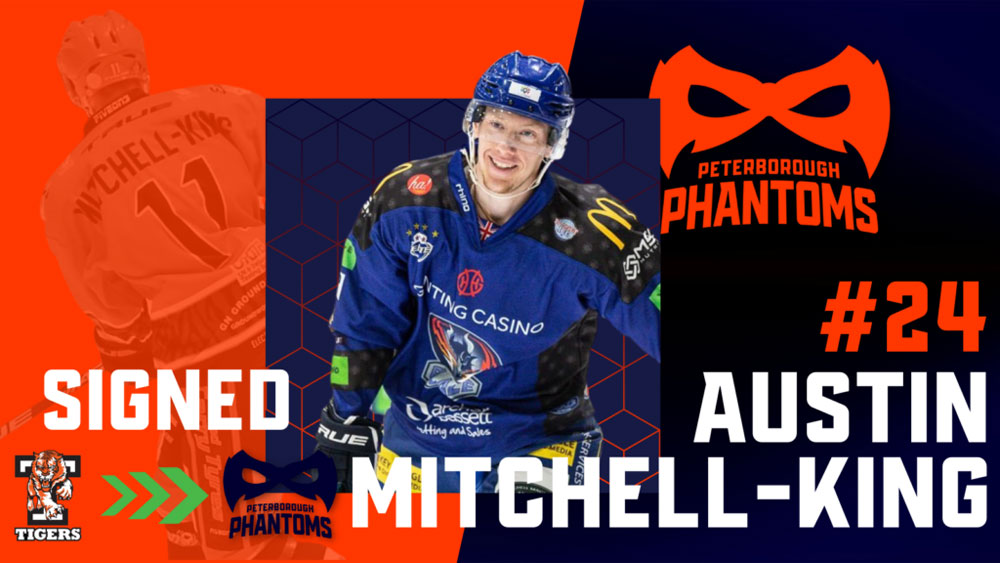 Austin, a 20 year old forward, is a product of the Coventry Blaze Junior system, where he played all the way up to U20 level and has represented the Blaze a handful of times in the Elite League.
The former Great Britain U18 and U20 International played in Canada for two years between 2018-2020, for the Hill Academy U18 Prep Team. In 43 games, he scored 42 points, including 20 goals.
He returned to England for the EIHL Elite Series, icing once again for the Blaze, before signing for the Telford Tigers for the 2021/22 season. He was part of a successful team in Telford, playing his part in their NIHL National League title winning side of last season.
In 47 games last term, Mitchell-King scored 14 goals and added 21 assists for a total of 35 points, a good return for a 20 year old in his first full season in the league.
And he now makes the move to Peterborough, where he'll be looking to continue to develop his game under the stewardship of Slava Koulikov. Mitchell-King has been on a two-way in previous seasons with the Coventry Blaze, and the potential is there for him to skate with them when his personal life allows.
"I'm excited to get started in Peterborough and look forward to the season ahead. It was a tough decision to leave Telford but I feel it's the right thing for me at this present time. I can't wait to get on the ice with Slava and the rest of the team and pick up where they left off towards the end of last season!" said Mitchell-King upon signing in Peterborough.
Phantoms Head Coach, Slava Koulikov, had the following to say on Mitchell-King's arrival: "Austin is a GB Junior guy with a bright future in the game and we're really happy to have him with us. Tom Watkins is a really good coach, having won the league two years in a row, and he's got a great structure and philosophy. He coaches in a similar way to me, demanding structure and discipline so getting a guy who's been there for a year is an advantage because we know he'll be coming with the right attitude. He knows what it takes to win games and championships at this level so expectations and hopes will be high for Austin, but every year is another year of experience and we're looking forward to working with him and helping him with that progression!"
Season tickets are still available for the upcoming 2022/23 season. Click HERE for more information on season tickets, or click below for your 2022/23 season ticket form!
Download 2022/23 Phantoms Season Ticket Form
For player sponsorship information, take a look at our 2022/23 sponsorship brochure by clicking the link below. For more information or to express your interest in sponsorship, please email sponsor@gophantoms.co.uk!
Download Phantoms Sponsorship Brochure 2022/23
Welcome to Phantoms, #24 Austin Mitchell-King!
Headline Photo Credit: Darrill Stoddart
Graphic Photo Credit: Coventry Blaze