The Planet Ice NIHL National Division Owners Group met last week to finalise the structure and dates for the 2022/23 League campaign.
The league will comprise 11 teams and 56 regular season games per team followed by Playoffs and Championship Finals weekend.
Here's the details:
11 teams playing 56 games
Each team plays 3 times home and away, except that each team drops 2 home and 2 away games to make up the 56 game season. These games have been decided on a semi-random basis, taking account of which would be the longest road trips to make. (See the table below for details)
First games home and away between each team will count towards the Cup competition, with semi-finals and Final to be arranged once the competition is complete.
Season dates are:
Optional pre-season 2/3/4 & 9/10/11th September
League starts 17/18 September
League ends 1/2 April
Playoffs 8/9 April (top 8 playing Home & Away knockout 1v8 2v7 3v6 4v5)
Coventry Championship Finals Weekend 15/16 April
This table shows how many times each team will play each other. We will host Basingstoke and Bristol twice, and all other teams 3 times. We will travel to Swindon and Telford twice and all other teams 3 times.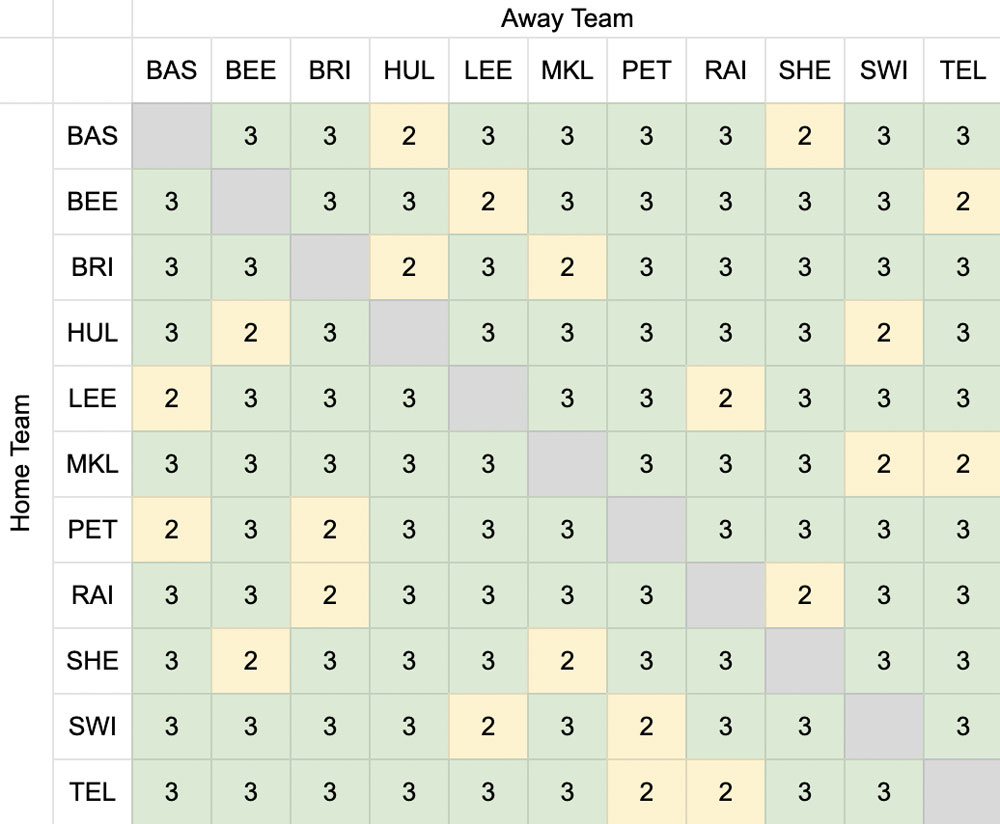 Fixtures will be released in the next few weeks once planning has been finalised.
We are all excited for our expanded 11 team Planet Ice NIHL National Division and can't wait to get started!
Remember, you can still book your 2022/23 Season Ticket, and spread the payments over the Summer months. Go to the Tickets page for all of the information and sign-up forms.