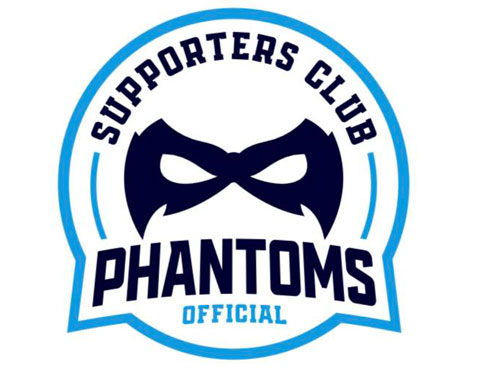 The Supporters Club kit sponsorship grid, is an opportunity for you to sponsor a part of your favourite players equipment.
Choose the item and receive some exclusive benefits…
Leg Tape £10 | Mouth Guard £10 | Water Bottle £10: Your name listed on the Sponsor Grid on the Phantoms Website
Leg Pads £25 | Gloves £25: All the above plus a signed team photo
Shorts £50: All of the above plus a photo with your player on the ice
Helmet £75: All of the above plus Birthday package from your player
Skates £100: All of the above plus a dressing room visit during the 2023/24 season
Sticks £150: All of the above plus a players stick at the end of the season.
NOTE: All packages can be ordered via the Phantoms Online Shop. Some equipment may be listed at a higher cost for some players. Check the online shop for all current prices.
You can also sponsor a players Stall Plaque in the locker room, or Own and Loan their jersey…
Stall Plaque £35: Photo with the player, plus the stall plaque at the end of the season
Own & Loan £190: Your name on the players shirt for the season, plus Photo of you handing the shirt over to the player. At the end of the season, you receive the shirt back.
All of the above can be purchased via the Phantoms online web shop, or from the Phantoms Shop on matchnights.
| PLAYER | LEG TAPE | MOUTH GUARD | WATER BOTTLE | LEG PADS | GLOVES | SHORTS | HELMET | STICKS | SKATES |
| --- | --- | --- | --- | --- | --- | --- | --- | --- | --- |
| 2 TOM NORTON | | | Box 7 | | | | | | |
| 5 IVAN BJÖRKLY NORDSTRÖM | | Gunn Franzen Ljung | Box 7 | | Marina Ljung | | Jan-Christian | | |
| 8 LOUIE KYNASTON | | | Box 7 | | | | | | |
| 11 SCOTT ROBSON | | | Box 7 | | | | | | |
| 19 LUKE FERRARA | | | Box 7 | | | | | Steve Coulson | |
| 23 BRADLEY BOWERING | | | Box 7 | | | | | | |
| 24 AUSTIN MITCHELL-KING | | | Box 7 | | | | | | |
| 25 BILLY THORPE | | | Box 7 | | | | | | |
| 29 WILL WELDON | | | Box 7 | | | | | | |
| 33 JORDAN MARR | | | Box 7 | | | | Chris Powell | Simone Hughes | |
| 35 JOE GRETTON | | | Box 7 | | Callie Curtis | | | Callie Curtis | |
| 38 DUNCAN SPEIRS | | | Box 7 | | | | | | |
| 42 TYLER DE LA BERTOUCHE | | | Box 7 | | | | | | ​ |
| 44 JUSTIN DENNISON | Isobelle Rolph | | Box 7 | | | | | | |
| PLAYER | LEG TAPE | MOUTH GUARD | WATER BOTTLE | LEG PADS | GLOVES | SHORTS | HELMET | STICKS | SKATES |
| --- | --- | --- | --- | --- | --- | --- | --- | --- | --- |
| 45 CALLUM BUGLASS | | | Box 7 | | | | | Jasmine Bates | |
| 77 MARTINS SUSTERS | | | Box 7 | | | | | | |
| 90 LEO MARKEY | | | Box 7 | | | | | | |
| 91 LUKAS SLADKOVSKY | | | Box 7 | | | | | Emma Bates | |
| 93 ALES PADELEK | Luke Rees | | Box 7 | | | | | | |
| 95 JASPER FOSTER | | | Box 7 | | | | | Callie | |
| 96 JARVIS HUNT | | | Box 7 | | | | | | |
| | | | | | | | | | |